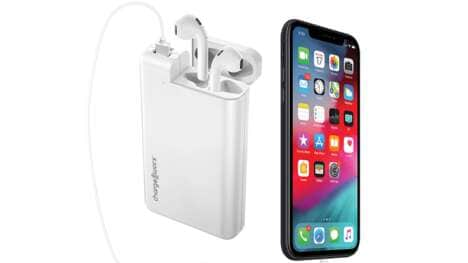 The 2-in-1 Chargeworx power bank will keep both your iPhone and AirPods juiced up while you're on the go, whether in the city or out in the backwoods. With the AirPods charging slot built right into the casing, there's no need to lug your old AirPods charger around.
Chargeworx's sleek and modern design boasts an impressive 10,000 mAh capacity—or up to 75 extra hours of battery life for either of your Apple products or other USB-compatible devices. The lightweight and compact construction means you can toss this portable charger in your pocket or purse for on-the-go use. The intuitive LED indicator lets you know when you need to check in for a quick charge so you can stay mobile and connected.
This power bank works with both standard AirPods and AirPods Pro, so you're covered either way.
Image Credit: Mashable, stacksocial