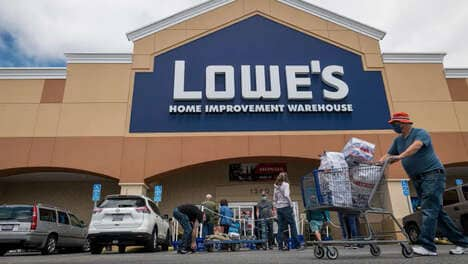 Lowe's is launching 'Livable Home,' a program dedicated to providing aging seniors with products, services, and expertise in order to attract more customers from the demographic. Lowe's CEO Marvin Ellison describes a time when he struggled to find senior-friendly items that would allow his father to age safely and securely. In order to fill a gap in the market and combat age-related issues experienced by baby boomers, Lowe's will offer new services and products in collaboration with the non-profit organization AARP, including in-store enhancements that see employees sport an AARP badge as an identifier for customers who need age-friendly products.
"With all of the issues you had in nursing homes during the pandemic, that may cause some individuals to decide to stay in their homes and then they'd need these kinds of items," Ellison said.
Baby boomers are one of the largest demographic groups and Lowe's hopes that it can become an all-inclusive store for senior-focused supplies, such as grab bars for the shower, nonslip floors, wheelchair ramps, and walk-in bathtubs.
Image Credit: David Paul Morris, Bloomberg, Getty Images