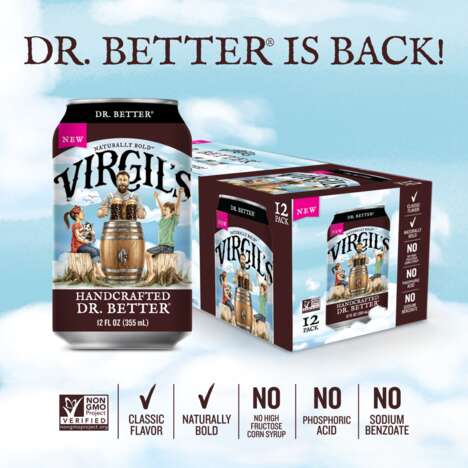 Virgil's, an all-natural soda brand that prides itself on using real ingredients that are all part of tried and true handcrafted recipes that taste great and don't contain any chemicals, has announced the revival of a fan-favorite flavor called Dr. Better.
Known for its unique and distinctive taste, Dr. Better is formulated with premium natural ingredients including tart cherry, sweet raspberry, and spicy cinnamon. Virgil's has also added caffeine to the mix this time around. Reed's Inc. CEO Norman E. Snyder spoke to the limited edition relaunch, stating "We simply had to deliver on [our consumers'] requests to bring back this beloved beverage. Over the past year we've strengthened our supply chain processes and heightened our operational infrastructure so we could do just that. Today's customer is looking for premium, all-natural options, and Dr. Better is back to give them the naturally bold, handcrafted flavor they deserve."
Dr. Better is available for purchase on the Virgil's web store, with shipments expected at the end of March.
Image Credit: Virgil's