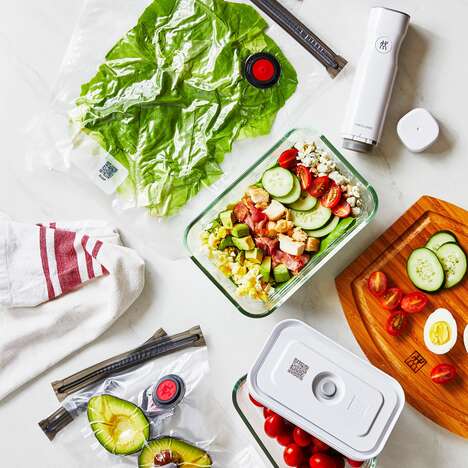 ZWILLING, a J.A. HENCKLES store that specializes in high-quality kitchen ware, offers the Fresh & Save storage system as a convenient solution to keeping leftovers and other food products fresh for up to five times longer than typical Tupperware containers.
The brand's Fresh & Save starter kits can be purchased in both glass and plastic variations, which include ZWILLING's vacuum pump, reusable vacuum bags, and a set of containers. Shoppers can also purchase the pieces individually, and can even take advantage of the brand's Vacuum Wine Sealer to maintain the quality and flavor of opened bottles of wine.
To use Fresh & Save, all consumers need to do is add the food they'd like to the containers or reusable bags, seal it with the lid or zip, and then use the handheld vacuum to remove any excess air. The reusable bags are also perfect for sous vide cooking and marinating.
Though shoppers don't need to use the app to activate any component of the storage system, it functions as a great companion for reducing food waste, with its easy-to-use interface allowing users to calculate the shelf life of different items and set reminders ahead of their expiration dates. The reusable bags each come with a unique ID that can be distinguished through the app, so users don't have to mark up them up with Sharpie-written dates.
The food storage system is now available for purchase throughout Canada, and can also be found in the US.
Image Credit: ZWILLING