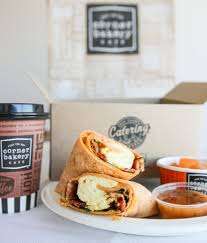 Corner Bakery wants to help make the first half of the day a little easier with two new catering options: the Breakfast Wrap Box and Lunch Salad Box.
Available from participating locations, both the Breakfast Wrap Box and Lunch Salad Box are ready-made meals. The Breakfast Wrap Box features your choice of Breakfast Wrap, as well as a side served with Green Chile Salsa. Side options include Steel-cut Oatmeal, Fruit, or Breakfast Potatoes. As for the Lunch Salad Box, this box features an individual salad, a cookie, and freshly baked bread.
As consumers gear up for a return to offices in the not-so-distant future, Corner Bakery's new catering options can help to make mornings and lunch a little easier – no prep required.
Image Credit: Corner Bakery