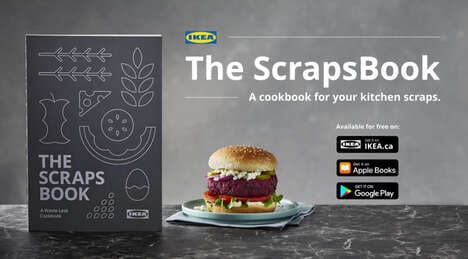 IKEA Canada created the IKEA ScrapsBook cookbook to help people reduce kitchen waste one scrap at a time. It's estimated that 2.2 million tonnes of food is wasted in Canada every year and this cookbook has the potential to inspire Canadians to get creative when it comes to making the most of what they already have.
In collaboration with 10 professional chefs, IKEA put together recipes that can be assembled from leftovers. Inside the 214-page book, home chefs will find recipes like wilted smoothies, watermelon rind jam and bottom-of-the-bag chip & cheese fritters. Fortunately for food lovers and environmentalists, the paperless cookbook can be downloaded online or found on Apple Books and Google Play Books.
The waste-reducing cookbook represents part of IKEA's commitment to becoming a circular, climate-positive business by 2030.