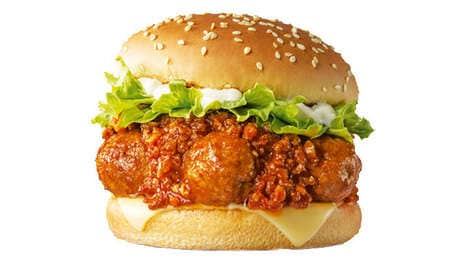 While the meatball sub is a common sandwich combo, McDonald's new Big Meatball Burger is an entirely new culinary creation.
Recently, McDonald's locations in China began serving what's being called the Big Meatball Burger. As you might have guessed from the name, the burger consists of a few beef meatballs, a slice of cheese, crispy lettuce, a rich tomato meat sauce, and a dollop of mayo, all sandwiched between two halves of a sesame seed bun. The result is a big and saucy sandwich that resembles a sloppy joe. And just like a good sloppy joe, this sandwich will definitely have you reaching for some napkins.
The Big Meatball Burger is currently available from participating McDonald's China locations for a limited time.
Image Credit: McDonald's China