Daniel Ricciardo has revealed he has signed a three-year deal with McLaren, believing there is plenty of momentum currently behind the Formula 1 team that gives him confidence.
Following Ferrari's signing of Carlos Sainz Jr for the 2021 season, McLaren quickly swooped for Ricciardo as a replacement, agreeing a deal with the Renault driver last May.
Seven-time grand prix winner Ricciardo made his on-track debut for McLaren earlier this week, taking part in a shakedown at Silverstone following the launch of the new MCL35M car for 2021 on Monday.
McLaren announced the signing of Ricciardo on a "multi-year agreement", but did not specify the length of the deal.
Speaking ahead of the launch of the 2021 McLaren F1 car, Ricciardo revealed that his deal ran to the end of the 2023 season.
"I guess I can say – I'll say it anyway, I've got nothing to hide – it's three years," Ricciardo said.
"So, it's certainly enough time to get this thing going.
"I feel I'm coming here with a bunch of momentum behind the team as well, not only results, but I think some really good stability in the team and the infrastructure."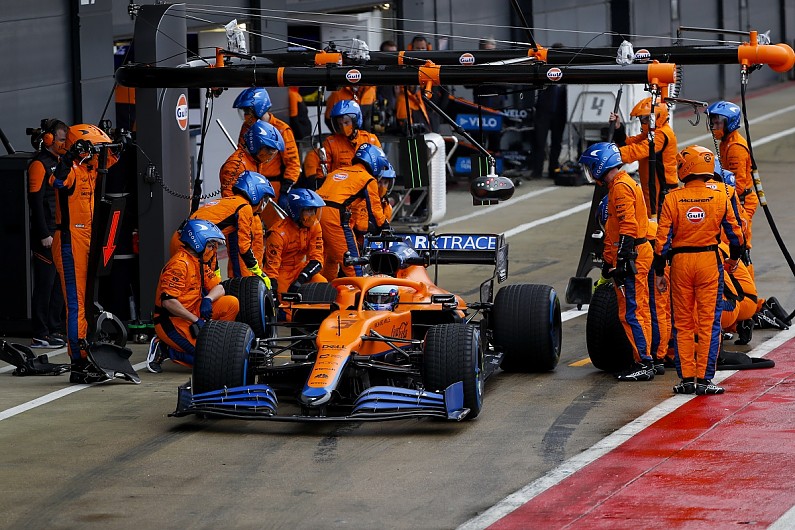 McLaren enjoyed its best season since 2012 last year, as it finished third in the constructors' championship, recording two podium finishes.
The British team has also been boosted by fresh investment over the winter, allowing it to proceed with plans to upgrade its facilities at its Woking factory.
Ricciardo was first approached by McLaren when he was exploring options to leave Red Bull in 2018, only to opt to sign for Renault on a two-year deal.
PLUS: The F1 racing statement that Ricciardo should make again
The Australian felt McLaren now had all of the pieces in place that it had been previously lacking, giving him the confidence to sign such a long-term deal.
"When I talked to McLaren a couple years ago, back in 2018, there were still quite a few moving parts," Ricciardo said.
"I don't think Andreas [Seidl] was there yet, James Key wasn't. And I think ultimately, not only the results weren't quite there on track yet, but they were still trying to figure out their own structure.
"They've really established that now, and I'm basically just fitting in the puzzle, as opposed to trying to put it all together.
"I'm certainly feeling good about it and hanging out to drive the car. It all feels pretty right at the moment."


www.autosport.com 2021-02-19 14:17:51