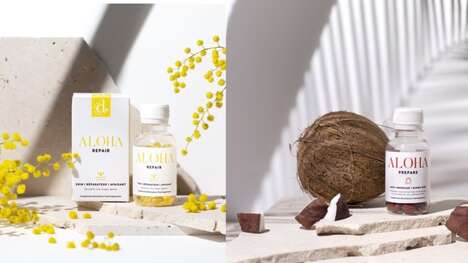 D+ For Care created a dynamic sun care supplement duo that works together to support the body before and after sun exposure. The D2C nutricosmetics startup created Aloha Prepare and Repair for sensitive skin, and it lends support with a blend of vitamins and minerals that help to amp up melanin production and cell renewal, and support hydration from within.
The supplements provide a familiar approach to pre- and post-sun care but they offer an internal approach rather than a topical solution. As supplements, the products are intended to add on to other sun care solutions and the brand sees this as an opportunity to co-brand and partner with sunscreen brands for this specific reason.
The supplement pair is packaged in 100% biodegradable bottles made from sugar cane.