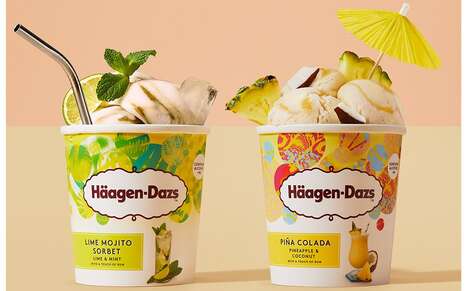 Many of the June 2021 branding trends center around expansions within the food and beverage industry. With summer coming soon, much of the product branding shares bright colors that embody the spirit of the season. These techniques play off of the sunny summer mood to match consumer and retail interests.
For example, the LEVIA seltzer comes in three juicy flavors: Raspberry Lime, Lemon Lime, and Jam Berry. The cannabis-infused canned seltzer has zero calories and zero sugar, making it a health-conscious choice for seasonal fun. The subtle light coloring over the can's white base situates the seltzer as a summer staple.
Similarly, Häagen-Dazs released two new seasonal flavors that are inspired by refreshing cocktails. The Piña Colada and Lime Mojito Sorbet ice cream flavors come with a touch of rum for an extra kick. The watercolor packaging suggests sunny days and lighthearted fun.