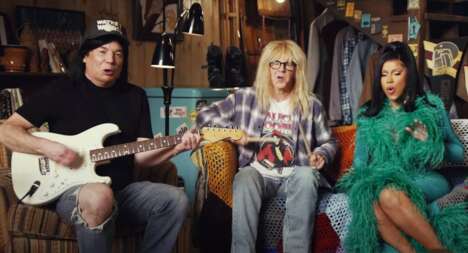 These examples of March 2021 commercials range from rapper-led tech campaigns to film spoof food ads.
First launched during Super Bowl 2021 in February, the month's notable game day ads include Uber Eats' Eat Local commercial that stars Wayne's World's Wayne and Garth, played by Mike Myers and Dana Carvey. The characters who play hosts of a local cable tv series are shown promoting the support of local businesses during the COVID-19 pandemic. Another Super Bowl 2021 campaign to note is Logitech's 'Defy Logic' ad. Promoting the brand's interactive tech, the ad features rapper Lil Nas X, environmentalist Leah Thomas, makeup artist Kimberley Margarita and others who aim to defy logic in their creative field.
McCoy's 'The Beast' snack campaign rounds off this list and showcases what can happen when someone is "hangry." The humorous ad speaks to Millennial consumers who are fans of the slang — meaning angry as a result of hunger — and is both authentic and relatable.