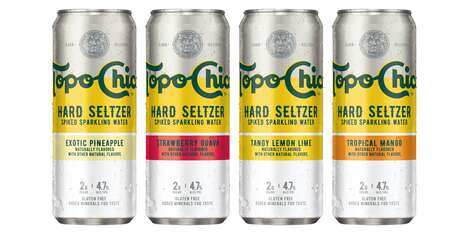 After much anticipation and hype, the new Topo Chico Hard Seltzers are finally beginning to hit store shelves across the U.S.
For those unfamiliar, Topo Chico is a popular Mexican sparkling water brand that's known for its vibrant bubbles and minerals. Now, you can enjoy the same great taste of the sparkling beverage, but with a touch of alcohol. The new Topo Chico Hard Seltzers have an ABV of 4.7 percent, which is in line with most other hard seltzers on the market. The drinks also contain just two grams of sugar, and come in vibrant flavors like Tangy Lemon Lime, Tropical Mango, Strawberry-Guava, and Exotic Pineapple.
The official launch date for the hard seltzers is March 29, 2021, and the drinks will be available in 12-count variety packs, 24-ounce singles, and 16-ounce cans.
Image Credit: Topo Chico