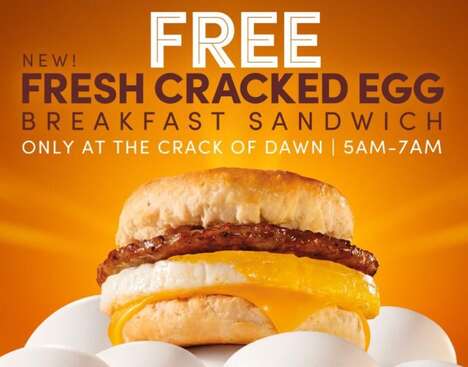 If you prefer a runny yolk to a rubbery egg patty, then you'll love Tim Hortons' new Fresh Cracked Breakfast Sandwich.
Tim Horton's recently launched a new Freshly Cracked Eggs menu at all its U.S. restaurants. With this new menu, customers can now enjoy freshly cracked eggs with a variety of different breakfast items, including sandwiches, wraps, bagels, and biscuits. To celebrate the launch, Tim Hortons created a dedicated Fresh Cracked Egg Breakfast Sandwich. Just as the name suggests, the sandwich features a yolky, freshly cracked egg paired with a savory sausage patty and a slice of American cheese on your choice of a buttermilk biscuit or an English muffin.
Right now, Tims fans can score a free Fresh Cracked Breakfast Sandwich by placing an order on the Tim Hortons app or online between the hours of 5 a.m. to 7 a.m., from March 14 to March 21 – a promotion designed just for Daylight Savings.
Image Credit: Tim Hortons